Fresh Paint
Sunday, August 07, 2005
Openings at Lisa Boyle and Western Exhibitions
It's hard to talk about these "two" galleries as two galleries, since you must walk through Lisa Boyle's place to get to the smaller Western Exhibitions. Last night, as seems to be the case with most parties, the smallest room gets the largest crowd, especially around the beer barrel.
Showing at
Lisa Boyle
was this thing:
It appeared to be coloring something with a red crayon while sticking its tongue in and out and twitching periodically. The green thing in foreground pulsed every now and then. I think it works off carbon dioxide, since one of the tubes was hooked to a bottle of seltzer. Regardless, the artist (
Matthew Steinke
) wasn't at the opening, so I couldn't ask about them. And in any case, they were amusing enough, but ugly, oh so ugly.
Like a patron saint blessing the entire operation, rose the huge and majestic image of
EC Brown's
cat Vladimir:
Arrayed in a line along the walls were Erik's small, exquisitely detailed paintings. For some reason I'd got the impression from his website that he worked larger, but all were 6 by 20 inches, acrylic and ink on wood, a mix of new work and new to Chicago work. 2 of my favorites:


Though none of these appeared thickly painted, the surface is rich and nuanced, occasionally iridescent. He says he starts with a red ground and uses a very limited palette. Clearly he understands line and color. I suddenly thought, my, but these would make great prints, but that's my head speaking.
At
Western Exhibitions
were drawings by
Eric Lebovsky
and fabric art by
Aaron Van Dyke
.
The
Lebovsky
drawings were from a series called "Things To Do in an Ice Age," arising from a 3-part New Yorker article on global warming (one of the handouts at the show), though I don't recall the article being as amusing as these drawings.
The captions (top left to bottom right) read:
Finish Camus
Talk to Your Pilates Instructor While You Search for Your Family
Choreograph
Deep Fry Balls of Cheese/Make Pipes/Start Your Own Renaissance Faire
Grow Your Monobrow
Chase After Rations
and about a dozen more. The gallery sells a B&W book of the show for 10 bucks (yes, folks, 10 bucks, edition of 40). Suitable for use as a coloring book, though the artist didn't seem thrilled with the idea when I suggested it.
Finally,
Aaron Van Dyke
showed 3-ish-D wall hangings, fabric (sheets, curtains, etc), whose patterns have been excised and then ruffled and suspended from pins. Like so: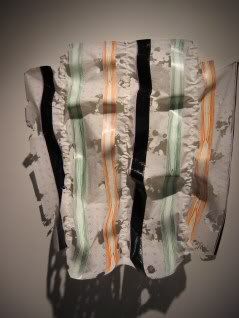 I talked with the guy for quite a long time about the installation. One of the pieces was originally installed on a board, the fluttering tops held together with masking tape and dozens of pins, then the board pulled away, and the masking tape cut off. These things interest me.
Both of these galleries form part of a coalition called the
WestTown Gallery Network
, ie., a new gallery district in the Kinzie/Ashland area. Will have more to say about it later.
Turnout was really good for a Saturday in August (not as hot as it's been, luckily). People drifted to the fire escapes for conversation and smokes. A very pleasant, relaxed event. On the way down the steps, I see bicycles:
This work is licensed under a Creative Commons License.