Fresh Paint
Wednesday, March 02, 2005
Lithography Update
Arms aching from hauling stones around. Image is now rolled up and proofed. It's based on this black and white version of an old figure painting. We weren't sure how potent the nitric acid was, since no one's used it for a few years. My final version may have ended up a little light and marky, but we'll see next week. I finally remembered how to do tones after I'd already done the drawing. Won't be in the studio for the rest of the week, so the stone will just have to sit and think about it for awhile.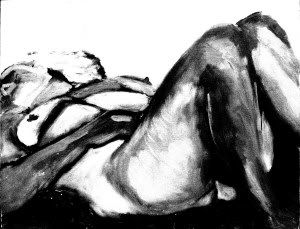 Didn't bring home my proofs. Sorry. Will try to be more coordinated next time. Have also started working up a monoprint series. It's coming very slowly. Want to get vivid, jewel-like colors. Difficult, unless everything is pure and clean. Needless to say, this isn't my natural way of working.
This work is licensed under a Creative Commons License.