Fresh Paint
Tuesday, March 01, 2005
Invisible Worlds at EAC, Part 2
The painting below by
Shona McDonald
(Patchwork Earth, Dark Hems of Hedge) is worth the trip, even if you live elsewhere. I apologize for the poor quality of the image and will try to get a better one later.

The diptych is about 8 or 9 feet wide in gouache and pencil. All the movement in the part on the left is vertical and beautifully colorful, all on the right horizontal and in a delicious grayscale. This is someone who has looked at the shapes of landscape and understands them. That they are casually pinned to the wall, exposed to air and possibly grubby hands is lovely and scary, though framing costs (which would be quite substantial for this work) may have been the reason. I seem to remember this work (or another by her) at a recent Bienniel, though perhaps is wishful thinking.
Across the room from McDonald's work is a fascinating painting by
Kelly Vanderbrug
that just teeters on the edge of the overly designy, but is just so gorgeous to look at. I overheard her telling a student that she uses contact paper to get different shapes and textures. This is a painting that's fun to look at up close. The other work she has in the show is very different from this and seems like it's from a different person. I should have asked her about it but didn't.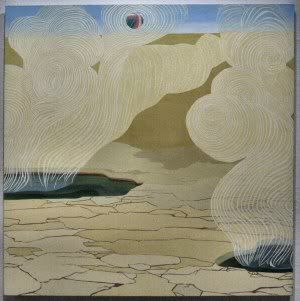 Finally (for this blogging) is a nice big painting (she has smaller ones as well), Tangle Collapse, by
Elizabeth Tyson
.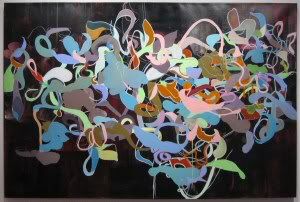 I particularly like the rich brown ground, though the painting needs restretching badly, since it's sagging up at the top.
Modern Kicks
recently wondered about the current prevalence of pastel colors in recent painting, and I hadn't really thought about it until he pointed it out. What does it all mean? Is it a desire to fit in with interiors? I don't think there's a sex-bias going on, since I've noticed male painters doing it too.
These things come and go, however. People seem to like flatness vs. expressive surface, and are ape for a glassy varnished surface with no apparent brush strokes as well. It's interesting that all (let me double-check, but I believe all) of these artists are painting in acrylics, something I thought only old ladies did any more. But with all the additives etc. available these days, I don't suppose it much matters.
Will be back later with another episode.
This work is licensed under a Creative Commons License.