Fresh Paint
Thursday, July 29, 2004
Not Bragging This Week
ETA Press Release: Unemployment Insurance Weekly Claims Report
Latest figure at 345,000,
up 4,000
, putting it right at my geek-spreadsheet average I've been keeping since November.
But couldn't find this released widely via googling. Odd....
Full report has all kinds of other info. For example, initial claims from newly discharged veterans is up from 1992 to 2316 (wk ending 7/17), and benefit claims from this group is up from 24891 to 25,743 (wk ending 7/10).
Keep 'em in the service and don't let them out, is the plan, I guess. Wouldn't want to let the actual numbers screw up Bush's plans for tax cuts and whatnot.
Good morning folks. A pleasant day so far, though politics is exhausting, isn't it? So here's the little beach scene for you to contemplate as I go out for coffee and more party supplies.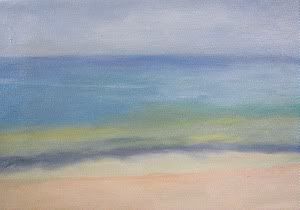 Looks a little mushy from compression, but it was hazy yesterday, really it was.
This work is licensed under a Creative Commons License.