Fresh Paint
Thursday, November 17, 2005
A Few Bushes
.... the good kind: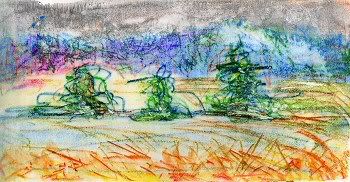 This is one of the monoprints I did as part of my screenprinting frenzy of a few weeks ago. This is the second pull of the three, and the one I like the best, so it may go into the
CPC Small Print show
, since it's just barely small enough (max is 144 square inches).
If not, you can see these and many (many, many, many) others by many many many artists at the
EAC Print sale
, scheduled for
Sat. and Sunday, Dec 17th and 18th
, in conjunction with the
Jewelry Shop
sale in the basement of the
Noyes Cultural Arts Center
.
Since I've volunteered to organize this thing, I'll likely do a shitty job. All I can guarantee is that we'll have several racks of art for sale, we'll take cash or check only, and that you'll be astonished at the low, low prices. Much much better than Walmart.
And we'll be donating 10 percent of all sales to the
Evanston Art Center
. How's that for easy giving?
More details later.
This work is licensed under a Creative Commons License.