Fresh Paint
Wednesday, November 09, 2005
Minty Fresh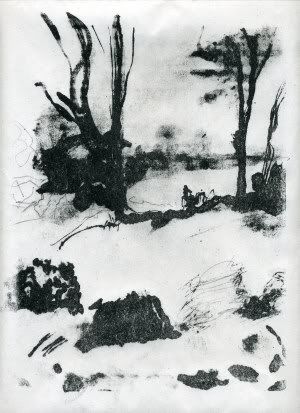 This is a newsprint proof of a wintergreen transfer, something I'd never done before.
The original drawing (still in the car, of course) was a notebook thing from several years ago of pen and ink and wash, and I happened to have a xerox of it in my portfolio. The lighter washes didn't transfer very well, but the darker tones are wonderfully smokey.
Basically, you just dab oil of wintergreen on the back of the xox you've put face down on the stone, then send it thru the press with firm pressure. I sent it thru a few times, once with pressure so hard I thought the stone would break, but no fear. Then process it with gum only, roll up, and print. Had to remove the remnants of the xox with acetone, since lithotine did nothing. And also had to supplement the drawing on the stone with a little line work.
You guys better get used to this image, since it will no doubt shortly be combined with trees and faces and sloppy silkscreen backgrounds.
This work is licensed under a Creative Commons License.