Fresh Paint
Thursday, October 13, 2005
What I've Been Up To
This is some of it: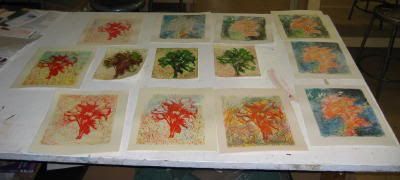 Much of this is printing the litho tree stone over monoprinted backgrounds. Have done tons of backgrounds in preparation for trees (or perhaps faces) as well as I learn this process. Is messy and inexact, but freeing, in many ways, since doing monoprints is inherently a messy, inexact, thing.
Will be at it tomorrow and Saturday, when our art week starts. If you have a chance, come by and visit:
EAC Printmaking Studio Open House

Free

10 a.m. to 4 p.m., held at Noyes Cultural Arts Center, 927 Noyes St.

847-475-5300

The Evanston Art Center holds printmaking demonstrations and an exhibition of student work at its printmaking studio in the Noyes Cultural Arts Center.
Took individual pix of most of these today (too big to fit on the scanner comfortably), so will in good time post to the
works on paper
blog.
This work is licensed under a Creative Commons License.