Fresh Paint
Friday, October 07, 2005
It Was a Dark and Stormy Tree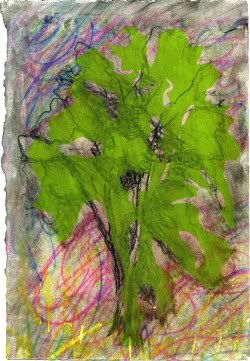 Is abt 40 something degrees out, half of what it was 2 days ago. Am trying not to turn on the heat, relying on the pent-up inferno still up in the attic to keep me warm. Warm. Never thought I'd long for warmth again.
Did a huge amount of work today, mostly working with the tree images from these past few weeks on different silkscreen/monoprint backgrounds. Only did one of these, nicely murky. Printed the water based ink over the oil based litho on half of the prints and got interesting results. Is possible after it dries I'll get some interesting cracking and weirdness, but I don't care.
Did the other half printing litho ink (flame red!!) over the monoprint silkscreen backgrounds. This was as they say more fun than a barrel of monkeys.
I am now as tired as a barrel of monkeys who are tired, so am drinking some wine. May go back tomorrow and rescue the flame-red prints that are drying so I can show them to you.
May be back with the other print I brought home later. One of these days I'll organize all of the trees in one place. In case you hadn't noticed, I managed to organize most of the faces over to the right, in my
Works on Paper
blog. It's all so tiring.
This work is licensed under a Creative Commons License.