Fresh Paint
Sunday, September 25, 2005
I Had To Stop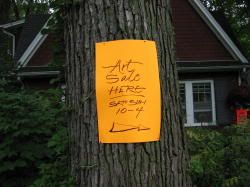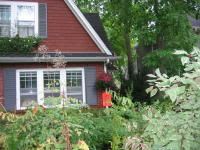 When you follow the garden path around the back you will find watercolors by
Marjorie Davidson
(mostly quite competent coastline and harbor scenes from Door County and North Carolina) and photographs by
Duncan Green
.
I liked the gallery walls.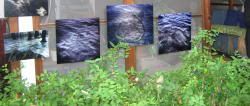 Marjorie had some older work in a sale bin (I rather liked a few of her all-over studio compositions. Nice light touch, too.)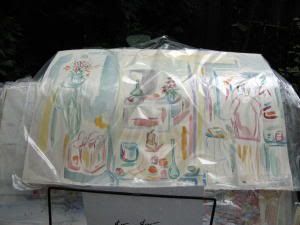 And what would a gallery be without a gallery dog?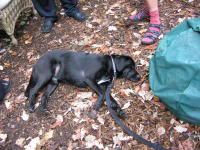 It was half-time for the Bears game, and the rain had just started spitting, so people came racing in to buy stuff.
Another painter in the neighborhood who does big, expressive canvasses (not my favorite, however...) does a lawn sale at the start of the summer.
Hmmm....
Good afternoon, friends. I figured I had to write about someone else's art for a change to keep my membership in the club, so this is it. Low energy continues, unfortunately.
This work is licensed under a Creative Commons License.