Fresh Paint
Thursday, May 12, 2005
Still Hair
Yes, I am still hair... remember this painting?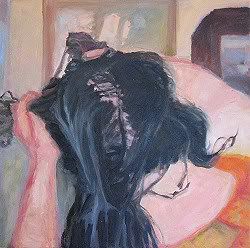 This is how it looked before I started ruining it today by "fixing" the mirror in the background. Forgot I had taken a snap of it in its still-pristine state. Tried to gray down the background but now it just looks dirty. But will bring it back, no fear.
And have to do something about that damn arm and hand.
Good afternoon, folks. It's about 45 degrees out, if that, and the wind is coming directly from the north thru the cracks in my walls directly at my hands as I'm typing this. I should put my gloves back on.
And yesterday, or was it Tuesday, I murdered a nude. Yes, I did. She is no more.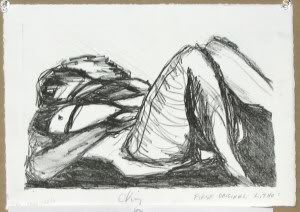 Stone is grained, edition closed. I think I have about 10 decent prints on different papers. Should find them all.
Now I have to figure out what new thing to put on the stone, now that I've killed her.
Worked on a tiny little dry point yesterday of the daffodil from a few days ago. It's pretty, unlike most of what I've been doing lately. It's for you, Mom.
This work is licensed under a Creative Commons License.