Fresh Paint
Tuesday, February 15, 2005
Printmaking Report
I'd forgotten how agonizingly time consuming lithography is, but somehow zen. Spent much of first session graining stones. Will be back tomorrow to grain more.
One thing it does is buy time for figuring out what to do as a first project. The last litho I did was very gestural -- spent maybe five or ten minutes on the drawing and then the hours and hours afterwards on the etch, the rollup, inking, printing, etc. Let's see if I can find it.... oh... here it is: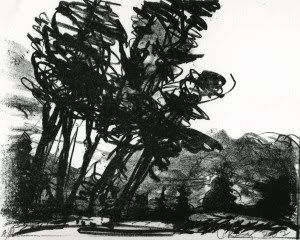 Is almost depressing to look at old work. It's so very much better than the new stuff. While searching for paper etc. found some old drawings I completely forgot about. Done on newsprint, of course, but since they were well hidden in the dark in this portfolio, still look pretty good. Now that I've taken them into the light, they'll probably die soon. So should try to get snaps of them, then hide them away again.
So, since I'll probably be printing 3 days a week for awhile, I'll finally get around to the printmaking part of the description of this blog. Man, it's been nearly a year! Anniversary coming up soon. Oh, what shall I wear?
This work is licensed under a Creative Commons License.