Fresh Paint
Friday, October 29, 2004
Stunt Voting
Sharp Increase in Early Voting Alters Campaign
Thursday's rally in Madison, at which supporters were urged to walk across town and vote immediately, followed a similar event last month when Leonardo DiCaprio, the actor, appeared on the University of Wisconsin campus and exhorted the audience to follow him onto three buses that would take them to vote.

In Florida, such events have become a staple of the final month of campaigning.

"It's certainly altered our campaigning," said Matthew Miller, Florida spokesman for the Kerry campaign, citing special "early voting rallies" both Mr. Kerry and Mr. Edwards have held. The rallies often end with offers of a free bus ride to the polling site.

William R. Scherer, a Fort Lauderdale lawyer working for the Republicans, said his party had no need for such stunts. "We don't need to bus," he said. "Most of our people have cars."
And there you go. The difference in a nutshell.
Good morning, friends. Someone out there may still be brushing a wee-hours shower of confetti and streamers out of their hair, for I have served with pride my 10,000-th page of bloggery, with a fresh side of waffles and fruit, plus heated syrup and real butter. I promise to bring back a big cheese from Wisconsin, a sausage, and maybe some local beer, if I can find some.
For the Victory Celebration, of course.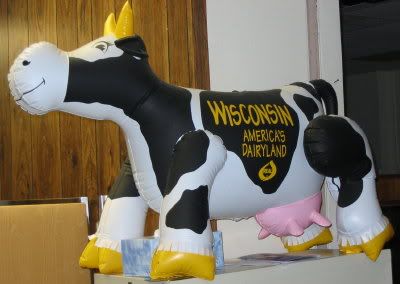 This work is licensed under a Creative Commons License.