Fresh Paint
Sunday, September 03, 2006
Dan Seals for Congress Picnic in Wheeling
As you all know, I'm a great connoisseur of
political food
(well, a great eater of same, at least). At the picnic today I had a cheeseburger with everything, a hotdog with everything, 2 no 3 ears of corn dipped in butter, half a dozen brownies, 3 cookies, 4 pieces of watermelon, a half pound of coleslaw and another half pound of garlic (I think) potatoes. Am I missing anything? Just the bees.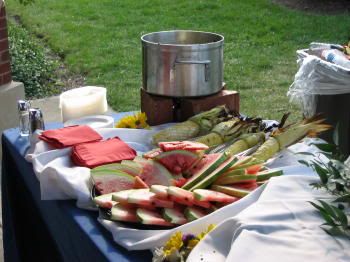 This was good food because there was no filler -- no potato chips or pretzels, no green salad that blows all over in a brisk wind. No embarrassing food (like beans). And no pizza. It was months before I could eat pizza again after the last election cycle.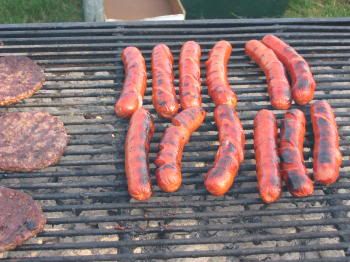 Again I'm impressed by the
Dan Seals organization
. We even got useful doggie bags on the way out with bumper stickers, position sheets (like how he stands on Israel), contribution envelopes, brochures to hand out, the district map (it's huge and diverse), buttons, and a pen. Wow! Plus a yard sign if you needed one. And a really good turnout -- lots of families -- good jazzy music plus man-about-town Aaron Freeman -- unobtrusive candidates -- and Dan himself.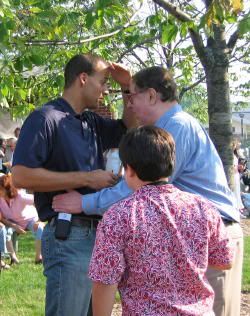 He spoke briefly (!!!) enough to rev us up and then hit the crowd. Man, another Democratic hottie.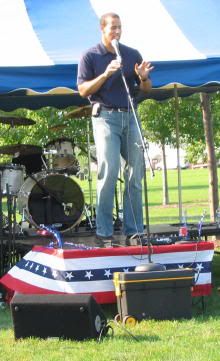 Chatted with some of the people who had just come from the parade in Buffalo Grove -- the big comment was that the crowd had apparently
never seen Democrats in the flesh
before, and were surprised they didn't have horns and tails. And so many, all happily marching behind their candidate!
This is what works. Grassroots, neighbor to neighbor. Making politics natural and friendly and surprising again. People had been encouraged to think that only one party was allowed. That it was illegal to be anything but a Republican in "wartime."
What a load of hooey! It's not just legal, but vitally necessary that we show ourselves, put up our signs. Then maybe you neighbor will start thinking about what's really right for the country, register to vote, and vote come November.
This work is licensed under a Creative Commons License.