Fresh Paint
Saturday, July 09, 2005
Skokie Art Fair
Art fairs are generally pretty dismal things, though they must make a lot of people happy, since they seem to be more and more popular. Actual art galleries are intimidating to a lot of people, but free, outdoor art fairs aren't. The prices are generally reasonable and well-marked, so there's no embarrassment at asking how much something you like is and finding out it's fifteen thousand bucks and then what do you do? It's like, why am I even here looking at this stuff?
So people's taste and what they hang on the wall gets shaped by what they find where the low-priced art is, which is pretty sad. The Skokie fair is about average -- good ceramics and glass, awful (really, really awful) paintings, so-so jewelry, plenty of hot dogs and fruit ice bars, perfect location -- shady, right next to the public library, so plenty of parking and foot traffic.
Two friends were exhibitors this year, and am pleased to say that both had good work.
Dennis LoBue
exhibited fairly straightforward needlepoint pillows, bags, and framed pieces. They're pretty nice. He has done versions of Picasso paintings that exude a ferocity that's quite wonderful, and does original work as well. Here's an assortment: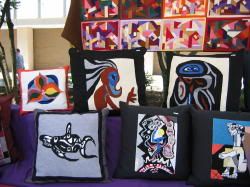 This is one of my favorite pillows. The pink blob is so pillow-like: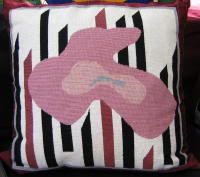 He's been spending more than half the day on these, and each one can take weeks.
Anita Miller
is showing low-priced giclee prints of her artwork. She's a very good painter. I'm not generally a giclee fan, but when the underlying artwork is good, why not? She tells me that the guys at Trillium in Chicago are perfectionists in reproducing art.
The fair is on tomorrow (Sunday) as well, so pillow-fans, or needlework fans, or giclee fans should take a look.
This work is licensed under a Creative Commons License.