Fresh Paint
Sunday, May 15, 2005
EAC Benefit Notes
This is the little lake that was in
the benefit
last night. I left before the end, so don't know how it ended up, but there were 3 or 4 bids on it at that point, so I imagine it went for $125 or a bit more, unless a bidding war erupted. Joyce Rebora witnessed one over her small painting of a house perched on a mountain top, which had risen to over $500.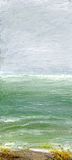 I'm just mentioning this in case you were one of the losing bidders.... there are still
plenty more lakes in the pot
, and all of them (and everything else I own) is for sale.
Food was abundant -- interesting appetizers and teas and gooey desserts, champagne and wine. No hard liquor, for the first time in memory. I believe there's a new licensing thing around here for events where they have to pay big bucks in case an underage drinker slips past a bartender and then slaughters themself or others on the way home. Thanks, Northwestern, for reducing the hilarity for the rest of us (I may be wrong about all this). I foresee the comeback of the hip flask.
A young woman from the Daily Northwestern was prowling around all night interviewing everyone (including me). Will be interesting to see what she writes.
Still feeling a bit bilious. Will go and lie down again.
This work is licensed under a Creative Commons License.