Fresh Paint
Friday, April 01, 2005
And the Winner Is...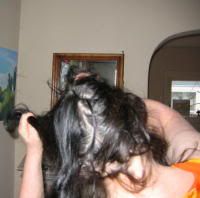 After much debate and hours and hours of screwing around with dozens of images, here's the winner for the next painting. I like it because it looks like I'm literally wrestling with my hair, which is how the day usually begins, and is why I long to cut it all off, tho all my friends scream at me No, No!
Good morning to you all. I know I promised more blogging yesterday and didn't deliver, but that's the way it goes. Since I have access to the print studio today will be going over later.
And once more, a reminder of the BFA show opening at the School of the Art Institute, cleverly scheduled against the Illini game in Saint Louis on Saturday evening. But the show will be up thru the 15th (I think). I will likely take the opportunity to roam the empty displays and buck up the weeping students, devastated that no one, including their parents, came to see their work.
Or else I'll go on Sunday. Either way.
I don't have a good April Fool joke for you either, since he's still in Washington, as far as I know. But this is my favorite picture of him being compassionate: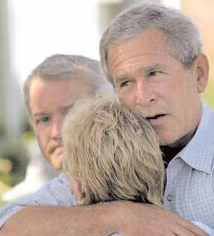 UPDATE: Except
this
(via
Boing Boing
).
This work is licensed under a Creative Commons License.