Fresh Paint
Thursday, March 17, 2005
Caribou Tears
Good morning. I don't look too friendly this morning, do I? The weather isn't friendly either. About an inch of horrible, wet slushy stuff out there. Supposed to continue like this all day, alternating snow and rain. If I go to print today will work on this, most likely: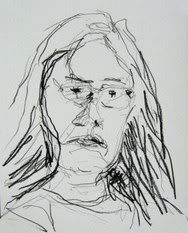 This is a quick sketch (reversed via mirror, and with hair) from the other day's hair mania (still not cut) that I did on litho transfer paper and transferred to stone using a damp pack method that actually worked. Then I fear I screwed it up by wiping away the paste with a rag that was too wet. But luckily grabbed a snap of the image before could ruin it, just in case I had to bring it back from the dead. She needs a new hairstyle, doesn't she?
Back later after I tell a couple of Hawaiian Democrats (Daniel K. Akaka and Daniel K. Inouye) how I feel about them for
voting to suck more oil
from the earth and slaughtering thousands of caribou. Oh, and that **** from Louisiana, Mary L. Landrieu, too.
This work is licensed under a Creative Commons License.