Fresh Paint
Monday, March 14, 2005
Afternoon Mess
Can't remember whether I posted this before. Last winter (or was it 2 winters ago?) I started trying to figure out different styles and subject matter on 12 inch squares. Some things felt natural, some, um, er, not: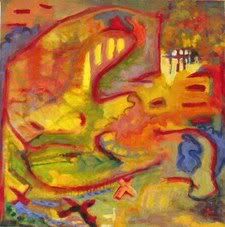 I post this to prove that even we bloggers can paint bad paintings. I felt bad about spanking Ginny Sykes's paintings yesterday, so in penance I pulled this painting out of the stack and started trying to "fix" it. It's unfixable. I think I called it "Gates," awhile ago, because of the gates, but also because of the plusses and minuses, which in the computer world are gates. And so is Bill. A Gates, I mean. So much for today's attempt at humor.
I'm out of 12 inch gessoed surfaces and it's too cold to do it outside, but may have to anyway. I want to continue with the hair paintings until I can't take it any more. Need to do something in a non-limited-color pallette. Have another up on the easel now that isn't ready for its photo shoot yet... maybe tonight. It's bearable to work back there, so must go do my thing, since will be printing much of the rest of the week.
This work is licensed under a Creative Commons License.