Fresh Paint
Thursday, March 10, 2005
Hair Today, Gone Tomorrow
Well, maybe not exactly tomorrow, but soon, soon.
Huge flakes of snow coming down now. I would show you a picture, but my camera is in the car and I'm wearing comfy, warm slippers at the moment, the big pink ones.
And I can't show you proofs of one of the monotypes I'm working on either, since I left everything in the studio.
Another series popped into my head recently, however, since I need to get my hair cut. One of the other printmakers took some pictures of my hair, so I can get a before/after thing going, or a highly narcisistic narrative about haircutting, Delilah, "Woman's crowning glory," etc.
Here's the hair, and why it needs cutting: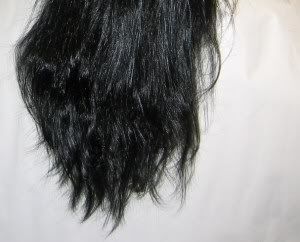 I was wearing a dark shirt. She kept saying, "There isn't enough contrast!" so she had me put a sheet of newsprint under the stuff to show it off. The resulting pictures (especially when photoshopped) are interesting, to say the least. I wanted to start in right away with a little painting, but the studio was SO COLD this morning.
Ah, me.
Eventually I must leave the house, so may be back later with camera and pix.
This work is licensed under a Creative Commons License.