Fresh Paint
Sunday, March 20, 2005
Cameras, Like Umbrellas
... are always in the car if it's raining.
Have been working on a painting from this hair shot. I couldn't have come up with more boring clothing and background if I'd thought about it for weeks. Have been playing around with colorizing, manipulating, whatever, but nothing is helping. Next time I decide to do a self-portrait I will wear a clown suit: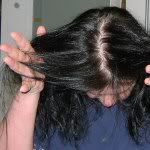 Which brings up the topic of Working From a Photo, something I've never (ok, rarely) ever done before and never for a self-portrait. I mean, the point of being alive is that you can draw yourself from life, right?
The problem is that you always have the same self-portrait grimness and the same pose, because that's where the mirror sits (unless you go through bizarre and dangerous adventures with duct tape and shards of mirror hanging over your head. Have tried. Not fun.)
So working from these digital shots has been freeing for me. You'll just have to bide your time till I work through this phase. Even the only plant still living in my house is a white flower (I think a begonia). I long for color. Still no spring flowers out there.
This work is licensed under a Creative Commons License.