Fresh Paint
Saturday, October 18, 2008
Warm the House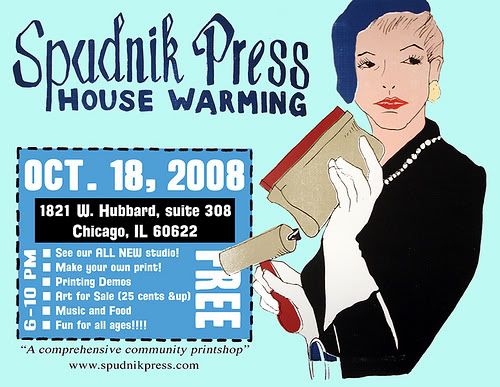 Instead of watching Sarah Palin do a bad impression of herself on SNL, wouldn't you really rather wait for the YouTube highlight reel and go to a bunch of parties where you can attempt to hook up with people from all genders and inclinations,
buy outrageously cheap art
(including
robot
prints), and maybe even dance? I suppose you could leave early, if you still haven't figured out how to use the tivo.
We need these parties, if for no other reason than as a warm up for Election Night. We've been sorely out of practice in celebrating political victories, and some of you out there have never known the joy of staggering around a ballroom with a funny hat on your head as streamers and confetti fly around while hugging a lot of people. Let me tell you, victory sex is great.
Spudnik Press House Warming Party.
Spudnik Launch Party
Housewarming Event
Saturday, October 18, 2008
6pm-10pm (in theory...)
@ Spudnik Press
1821 W Hubbard St.
Suite 308
Chicago, IL 60622
Added bonus party in same building, down a floor: The Post Family
October, 18th 2008
6 to 10pm
The Family Room
1821 W. Hubbard St. #202
Chicago, IL 60622
312-265-6406
Labels: art, printmaking, robots
This work is licensed under a Creative Commons License.