Fresh Paint
Thursday, October 26, 2006
Art Theft
Susan at
gescheidle
writes:
The first week of October during regular gallery hours, someone snuck into our private bathroom and stole a new bottle of Prada perfume and this piece of art. I'm asking everyone for help in trying to get this piece back. There is a $100 reward for the return of this piece - no questions asked.

The artist, Rob Yamabushi, resides in the hills of Ashville, N.C., where he runs a small design business making custom "Super Collage" pieces and t-shirts. This particular piece was commissioned by curator, Anat Ebgi, as the postcard image for our summer group show, "Wonder Twin Powers, Activate!".

Rob has never shown his collages in a gallery setting until now. We so loved the card image that we convinced him to let us exhibit the actual piece in the show. We ended up showing a few of his other collages as well. After the exhibit ended, we hung the collages throughout the gallery including in the bathroom. Whoever stole the collage ripped it out of the shadow box (it was only 5 1/2" x 5 1/2").

It is hard to tell anyone their art has been stolen, but especially hard telling Rob since this was his first experience with a commercial gallery. I know this is a long shot, but I'm hoping that maybe someone out there has seen, or will see, this piece. If so, please contact us at info@gescheidle.com, or at 312.226.3500. Thanks in advance!

Susan A. Gescheidle
www.gescheidle.com
Here's the image: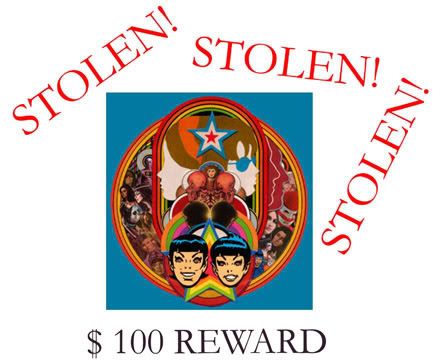 This work is licensed under a Creative Commons License.