Fresh Paint
Wednesday, October 25, 2006
And You Thought I'd Stopped With the Art
Remember her?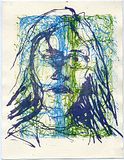 Maybe you prefer it like this: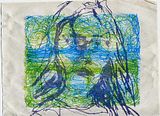 (We call it "Four Eyes", but I only did one of them and it's on crappy newsprint)
Or perhaps a bug for your listening pleasure:

(Click on them for bigger versions)
I did another really good bug on the cad red light background with a strip and 2 splotches of green chine collé. Unfortunately I lost the print somewhere between the print shop and my house this afternoon. I searched and searched, but it seems to be gone.
Maybe I'll find it in 10 years under the couch along with the cover to the remote for the old VCR, half a bag of Cheetos, and some gummy bears.
Back to politics tomorrow. I am supposed to be interviewed by Northwestern University News Service about my political blogging, so perhaps should go out there this evening and see what's new.
This work is licensed under a Creative Commons License.