Fresh Paint
Tuesday, September 06, 2005
Life Goes On
I admit I was fairly inattentive early last week to the Katrina disaster beginning to brew, even thinking that we could do with some of that rain up here (we could). But mostly it was because I was experiencing summer camp at the print shop. One of the excellent printmakers, Sadie Gerbic, a silkscreen genius, taught me the basics of monoprinting techniques using Caran d'Ache crayons on screens. She has 90 stored away and has lent me a few to play with. And play and play I did, so much that I threw my back out.
I managed to get 3 really good impressions (pulls?) and 2 or 3 so-so ones from each screen. I'm not good at this, so the edges of each image are very mushy.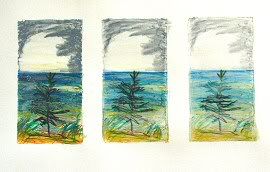 The above image is a full sheet of Stonehenge. Yes! I actually blew $1.45 on a single object (I am very cheap and poor right now).
But where would I be without stamping my face on the world?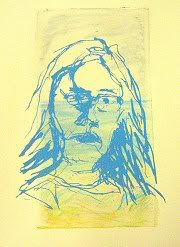 Sadie titled this one "Half Full." The brain area is the empty part, you'll note.
This work is licensed under a Creative Commons License.