Fresh Paint
Monday, August 29, 2005
Gescheidle Preview
...
Louise LeBourgeois paintings
of sugarcane fields in her native Louisiana: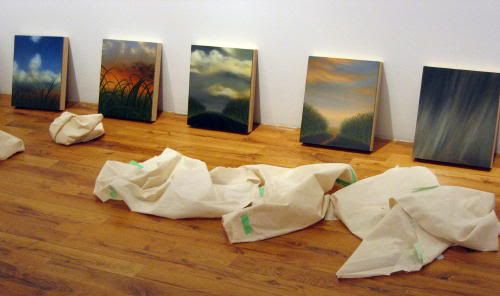 Seems somehow appropriate on this dreadful day for the state to show something beautiful.
One of the friends I gallery-hopped with last week has bought a few paintings from
gescheidle
in the past, so we were treated to a preview of work that had just arrived. All the paintings were packed wrapped in soft muslin. It was like Christmas morning as we unwrapped the first oh-so carefully, then got sloppier and more frantic as the unveiling progressed.
Louise and her husband Steven Carelli are in Florence right now but will be back for the opening on
Sept. 9th
October 28th. Her work will be in the small gallery. The
Burtonwood and Holmes
stuff will be in the large space (I believe) opening
Sept. 9th
.
[UPDATE: see comments. I got dates and who's showing where all wrong. Sorry.]
Susan said that
Bill Gates
just bought one of Louise's paintings from her West Coast gallery (I can't recall the name of it) and she was wondering how to let the Gates people know about these new works.
So if anyone out there knows Bill's personal email address, drop her a line, will ya?
This work is licensed under a Creative Commons License.