Fresh Paint
Thursday, August 18, 2005
Sorry, Again
... to inflict on you more boats and cars.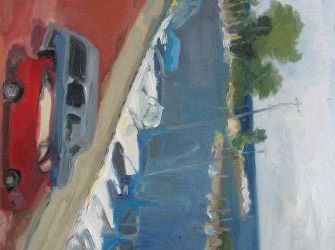 Clearly, I need lessons in perspective. Am not sure if the curving sidewalk actually curves, is curved by the lens in the camera, or by my bad drawing.
Gray truck is fine, and stayed put for most of the painting. The red convertible became a hardtop almost immediately after I started blocking it in. Since I liked the creamy leather interior, I tried to finish the windshield and tires from memory. Arghhhh! Will go back and hunt this car down.
Found the most delightful spot to sit and paint on the grounds of the yacht club, or whatever it's called. Am thinking of calling this series "Homeland Security," since some of what you've been seeing on the left side of these paintings is on the grounds of what used to be called the Coast Guard station, and a finer, happier bunch of tanned young men you'll never find. The sign has recently been repainted to reflect the new owners. I promise to get a snap of it, assuming they won't confiscate the camera and throw me into Gitmo for it.
Off, now, to live my happy life again.
This work is licensed under a Creative Commons License.