Fresh Paint
Tuesday, May 17, 2005
Idol Odds
Think it'll be Bo and Carrie? I'm not the only one who picked up on Vonzell's little quirks, like singing tragic torch songs with a smile on her face. She is a beautiful lightweight, as is Carrie. I was so happy to hear Bo get rid of the cheezy band and schmaltzy arrangements and just do a song a cappella. The guy really can sing, something that has been increasingly hidden with every more elaborate accompaniment and awful theme shows through the weeks. But Carrie! Singing Air Supply? Come ON!
Good evening, friends. Will be doing a lot of printing over the next few days. Nearly brought home a little daffodil print to show you, but it was still quite wet. It was a relief roll in yellow over a drypoint in black ink. I may do a bunch of these, since they're pretty easy to wipe and print. One of my print-mates (
Joe Taylor
) suggested adding a chewed off version in homage to the bunnies, and he may even have been serious.
Speaking of which, Joe will be showing a bunch of his
really strong woodcuts
-- from his series on the FBI's Most Wanted, and I think some other portrait pieces -- at
DHI
, 520 W. Erie, Suite 230. Reception is this Thursday, May 19th, 5:30 - 8:00. Other hours by appointment only. He (Joe, the rat) was supposed to send me a link to some images, but he hasn't, so all I have is this scan from his postcard: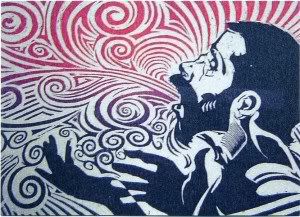 Be there or be square (as they used to say).
This work is licensed under a Creative Commons License.