Fresh Paint
Tuesday, December 21, 2004
Look Ma, No Cavities!
Does anyone remember when toothpaste used to be advertised on tv during kids shows? Am I that ancient?
Marshalled enough strength afterward to do a lap through the Art Institute, not recommended on a Free Tuesday during Christmas vacation. Bloodthirsty children speculating on what horrible deaths the weapons in the Hall of Armor might unleash, even bloodthirsty girls admiring the flowery inlaid designs on the ancient guns. I must admit that I admired a shirt of chain mail, thinking how I could knit up something very like it, since the pattern would be easy to count out and duplicate.
Since I go to the museum fairly often (or used to), all the paintings are old friends, so when they rotate the collection or present a new acquisition, I rush past the Monets and nauseating Renoirs to take a look.
But before all that, I had a late breakfast at the Artists Snack Shop on Michigan Avenue, and visited the ladies room which I'd never done there before: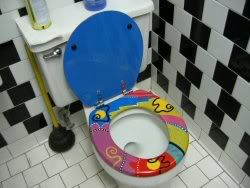 I was utterly charmed, and at the cleanliness too.
Was also charmed by this detail from an etching (
The Artists on Their Journey, 1819
by Johann Adam Klein):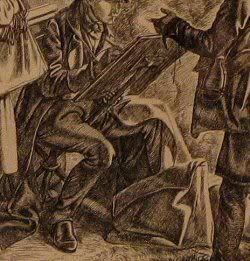 I'd never seen a drawing board like this, with a stick attached that fits in your foldup stool. Plus he's seems to have either a pencil or a cigarette in his mouth.
Finally, wandered quickly through the so-called contemporary collection, which they should be ashamed of. Dreary installations plus the Warhol Chairman Mao that's been hanging in the same place far too long. I mean, when do you stop being contemporary?
Was taken, however, by this radiant and large clothed statue (?) by Yinka Shonibare called "Big Boy":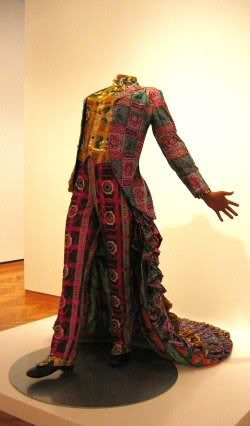 Such presence.
Didn't get a snap of it, but a very spare painting by Gertrude Abercrombie, whose work I hadn't seen before, was new to me too. It was a room with a bed and pillows, a painting above the bed, and 2 tables, eerie, almost surreal. The painting above the bed is also eerie and strange.
Anyway, don't try to go near the miniature rooms this time of year. You may go mad.
Addendum:
Winter Solstice!
(thanks
Ralph
)
This work is licensed under a Creative Commons License.