Fresh Paint
Sunday, September 19, 2004
Joe Biden in Skokie
First, the pictures, since that's what everyone is interested in:
Jan Schakowsky with FOX...

Later, she told us not to listen to FOX, and the camera crew and reporter crept meekly away -- "but not our local people!", she amended, and they crept back again to much hilarity and only a little embarrassment. Note well -- Fox was the only news team to show up at this event.
Jan with staffer Alex...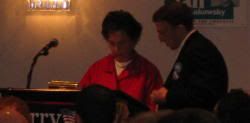 More chairs needed...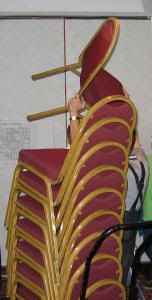 The point of the event... and the music swells... "Na na na na... na na na na... hey hey hey... gooood byeee..."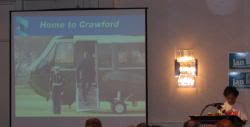 One of our Kerry Outreach Daniels (Daniel D, not Daniel B)...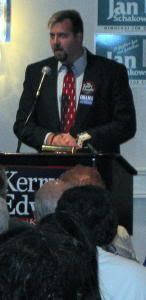 We barely recognized him without the Kerry T-Shirt fearlessly leading us into the wilds of Wisconsin. Quoting his old basketball coach: "Those that work the hardest are the last to surrender."
Melissa Bean (8th CD) will destroy Phil Crane, who has been in office since 1969 after defeating Rummy (yes, that Don Rumsfeld, a much forgotten fact since it's from olden times)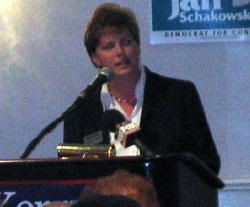 Michelle Bromberg (for State Rep 17th Dist.), nurse, mother, teacher, will mop things up in Springfield...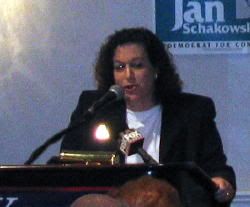 The Mayor of Skokie (George Van Dusen), with Jeff Schoenberg (State Sen. 9th Dist.) and Julie Hamos (State Rep. 18th Dist.) -- can you ask for more? Yes you can, and you'll get it.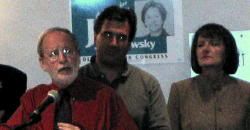 Joe Biden (D-Delaware) arrives to delight of all... especially this one...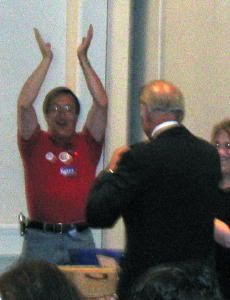 Joe speaks eloquently, seriously, at length about the future of the Supreme Court, about how the U.S. is now viewed around the world, the room nearly silent. In his own state of Delaware, multinational corporations are now telling their overseas employees to say they're Canadian...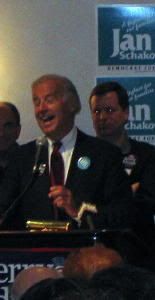 He closed with the words of 1995 Nobel Prize winning Irish poet, Seamus Heaney,
History says, Don't hope
On this side of the grave
But then, once in a lifetime
The tide of justice can rise up
and hope and history rhyme
"Vote like your grandchildren's lives depend on it."
And he spoke even more, and more at length after leaving the stage...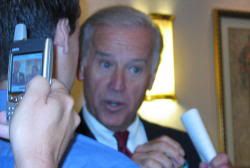 With Joan Ravenna from Lou Lang's (16th Dist. Rep.) staff...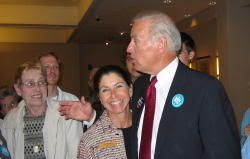 He speaks personally, intimately, and in your face in a small group. You believe every word he says. He clearly enjoys this part of his job, and enjoys telling anecdotes that run perhaps a little long, but we'll listen anyway, all of them pointing out that George Bush is not necessarily as dumb as you think, but that he's uninformed and wants to stay that way.
A thrilling afternoon, packed room, beautiful day waiting outside. I will perhaps show a few more pictures of the cookies served, which were phenomenal. Many of us took a few home. Hey, we're not proud.
This work is licensed under a Creative Commons License.