Fresh Paint
Wednesday, August 11, 2004
Quick, John! Get Back To Iowa!
Citigroup to Layoff 450 Workers in Iowa
DES MOINES, Iowa (AP) - Citigroup Inc. will close a credit customer service center in suburban Des Moines next year, laying off 450 workers, as the New York-based financial services giant continues to slash jobs following last year's purchase of Sears' credit and financial services arm.
...
Citigroup has announced plans to shutter call centers from Ohio to Idaho, leaving thousands of workers without jobs. The company already had laid off 105 workers at the West Des Moines center in May.

It's not the only round of layoffs Citigroup has made in the Des Moines area. Shortly after the company's purchase of Principal Financial Group's residential mortgage business in June, Citigroup began laying off 390 of the division's 800 employees.
In other news, contrary to all appearances, yes, I am still painting, though these politicos are doing their damndest to distract me and make me stop. Here's one I started a week or so ago and finally figured out what to do with: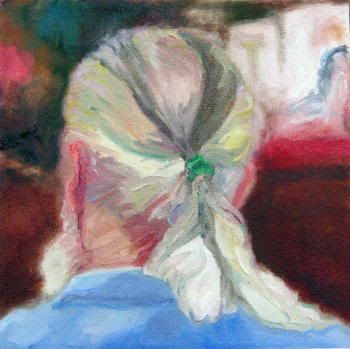 So, take that you doubters.
This work is licensed under a Creative Commons License.