Fresh Paint
Sunday, November 12, 2006
One Show Down
... another ready to go up (well, pretty soon).
The Crossing Boundaries show is down and packed away, waiting to travel to its next location. Don't think I posted my contribution before: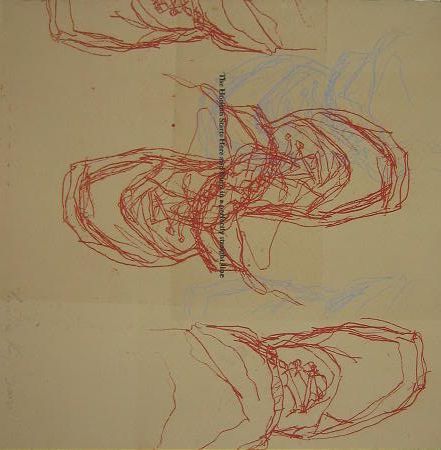 If you can't read the text across the middle, it says, "The Horizon Starts Here and Runs in a perfectly straight line."
I typeset it on our letter press and, while the mixed case wasn't intentional (my brain was fried and inattentive), I think I prefer it like this.
The boxed postcard sets are ready too. My piece reproduced just a tad yellow, but otherwise good (the color of this snap is a little better). Each set has 35 5-inch square cards on heavy glossy stock, boxed in thin lucite, like the kind you get with Christmas cards, and sells for only 20 or 25 bucks (20 directly from
CPC
, 25 at other locations, most likely, like the Chicago Cultural Center and misc. galleries). Or you can let me know and I'll get a set to you for 20 plus a couple of bucks for postage (I'm still deflating from the election and haven't figured this all out yet).
My stuff is going to be in number of places this season (if I can get it all together), starting with (as always)
sacred art
on Roscoe, where I have a lot of my bugs and other inexpensive proofs and little prints right now. At some point I'll have work over at the Evanston Art Center and the Small Print Show at CPC. Will get dates and times soon.
Looking at this print, it's almost an allegory of "red vs blue state" stuff, but that wasn't the intent. Still, is interesting the choices you may be making subconsciously.
This work is licensed under a Creative Commons License.