Fresh Paint
Monday, August 21, 2006
Misc. Art Notes
Lisa Boyle writes:
Lisa Boyle Gallery is MOVING to a new location! Naturally, there will be a big party to inaugurate the new space and mark the opening of the fall gallery season. It is only natural. Luckily, it will be about a week later than most of the other gallery openings, and with this shining advance notice, you'll have very little reason to miss it.

SAVE THE DATE!
Saturday September 16th, 6-9pm.

Please join us in our new space at:

1821 West Hubbard Street, 2nd Floor
(This is 1 block south of Grand, 3 blocks west of Ashland, only a few blocks from the current space. Parking aplenty!)

(Western Exhibitions Gallery will also be moving to this location and opening the same night.)
This (and companion gallery Western Exhibitions) are pretty good. I can't visualize where the new location is, so will have to go and look. The old location was funky beyond belief -- I don't think there was a genuine front door -- you always had to go up the back fire escape to get there, and had to get to W.E. by going thru the Boyle gallery.
Only a few more weeks till the start of the new art season. I am refinishing and polishing my basic blacks, contemplating whether to tip the new haircut with green or orange this year, or go with a completely classic blond flat top*, and charging up an extra battery pack for the camera.
As a token of my promise to do a little better this year, here's the (I just realized) promised images of the Santa Sheep from this year's Evanston + Vicinity Biennial. Finally shook all the bits out of my camera this weekend: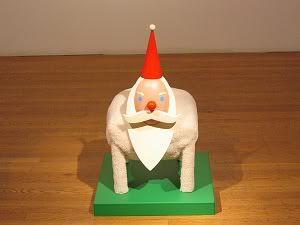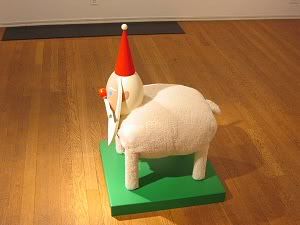 *not really
This work is licensed under a Creative Commons License.