Fresh Paint
Sunday, April 17, 2005
Good Morning
... to all my irreligious friends, lolling around eating croissants and drinking good strong coffee. Here's one of the prints I've been working on this past week, since you've been demanding new stuff.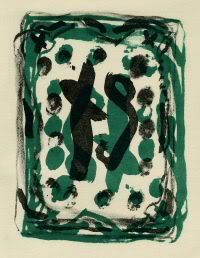 That's about it. It doesn't have a name at the moment. The version I'm working on in red and pink is a little naughty-looking. The stone has filled in a bit (I MUST do something to stop this) so it's beginning be a bit crude-looking, too.
A reminder to Chicagoites: the artists' reception for the Evanston Art Center Benefit is today from 1-5. I think there's a gallery talk at 1:30. Link to the side. I will be there at some point in the afternoon. Last year they put my piece online in the digital gallery. They don't seem to have anything up online this year, at least not yet.
So will have to fluff and prettify myself pretty soon. It may take hours to clean my nails, so better stop now.
This work is licensed under a Creative Commons License.