Fresh Paint
Wednesday, August 18, 2004
Least Publicized Figure Ever
Manufacturing Index Declines
The index, which offers the first clues to the performance of U.S. manufacturing in the current month, fell to 12.6 from 35.8 in July as measures of production and sales dropped, the Federal Reserve Bank of New York said. Readings above zero indicate expansion. The median forecast in a Bloomberg News survey was 32.3 and the lowest forecast was 25.

Thirty-four percent of the state's manufacturers, down from 46 percent in July, reported an increase in new orders, pushing the measure of new orders to the lowest in almost a year. Consumer spending during the second quarter was the weakest in three years, the latest government data show, which may have restrained corporate spending on new equipment.
I haven't seen this report mentioned much at all -- googling gets you what seems to be a very full discussion of the NY Empire State index from the San Mateo County Times. What were we distracted about on Monday and Tuesday that we didn't notice? The Olympics, perhaps? Upbeat reports from Wal-Mart and Lowes? Modest increase in CPI?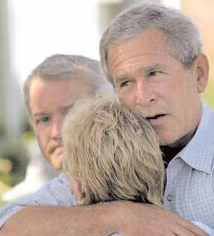 Oh, yeah. The hurricane. Such compassion.
Or is it a liberal-commie-birkenstock-wearing
conspiracy
? I just wonder when sales for government-promoted Kool-Aid will drop.
Good morning, my friends, both old and new. I don't know where you're all suddenly coming from, but welcome anyway. This is a very slow time of year for art and sweaters alike, though politics is certainly ascendant, and I will try my best to entertain you.
This work is licensed under a Creative Commons License.