Fresh Paint
Sunday, January 08, 2006
Better Than Nature?
Answer: no.
The new show at the
Evanston Art Center
doesn't actually ask the question. It states it. On the whole, however, the views out the windows of the beautiful mansion on Lake Michigan are far superior to what's inside.
One of the downstairs galleries is filled with pedestrian photoshopped prints and you-get-the-idea-after-you-see-the-first-one butterflies and microcircuits by
Karen Landis
in specimen frames or in glass paperweights on the floor (for some reason) Come on! We get it! I think I figured it out in 1985, in fact. Some of them are quite lovely, but still...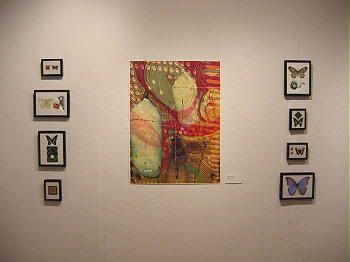 In the largest gallery is a flowing gown-covered chair by
Barbara Kendrick
facing a gallery wall to which has been affixed wisps of blue threads in a landscapey pattern. The fabric is ruffly with a wood-grain pattern, similar to the floor on which it all sits. It's quite dramatic and lovely (and may be the best piece in the show. Hmm... continue reading before you decide), assuming you don't read the catalog essay ("she uses natural patterns as a metaphor for the dissatisfaction women often have with their own bodies"). I still like nature better.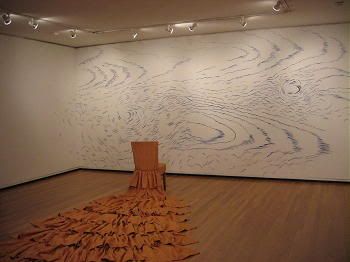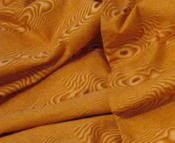 Upstairs is the most fun and least pretentious of the show, and the only installation (by
Lisa Costello
) that seems to actually address the theme. The gallery is filled with typical still-life subjects (fruit bowls on pedestals covered with "diamonds" and glitter and ferns, with he-men planted in them showing off their magnificent physiques). Even better, the one in the middle of the room rotates! Yes!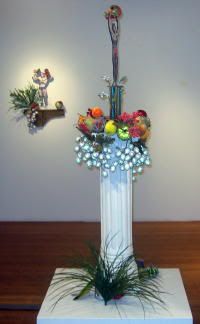 I would have liked to talk about this with the artist, but she may have gone by the time I got to the reception.
Finally, the ghostly and confusing installation by
Cynthia Morgan
shows 3 old-fashioned white party dresses hanging from the ceiling and piles of something that possibly are supposed to be cakes or maybe small hatboxes underneath. It's lovely and ghostly (as I said) and reflects prettily in the window overlooking the dunes and the lake, but WTF it has to do with the theme of the show is beyond me. The essay in the catalog (by Brunetti, who is usually a pretty good essay writer) describes something with bird sounds and funeral wreathes and mirrors, none of which is in this installation, so we wonder what happened.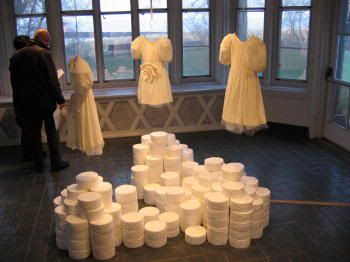 To my mind it seemed trite.
So there you go. And to top it off they continue to not serve any wine. Ah, well. It's up thru February 12, 2006.
This work is licensed under a Creative Commons License.