Fresh Paint
Tuesday, November 29, 2005
For Sale: Eclectica, at Gallery HQ, Makanda
This is Makanda, Illinois pop. 400.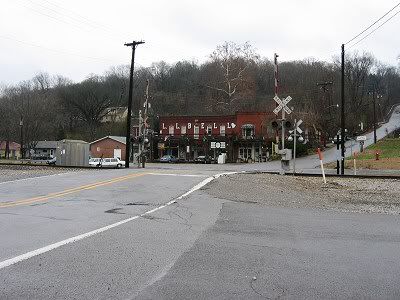 Half of the 400 are artists, the rest unemployed artists. It was the home of our dear late Senator
Paul Simon
,
beloved Democrat
and
proud Liberal
. I had the opportunity through an ex-brother-in-law to borrow some gallery walls, so borrow I did, and brought an assortment of my prints and a few of friend Joe Taylor's to put on the walls hoping to take advantage of the (hyped to be) Big Holiday Rush. I would have brought work from others too, but this thing came up so suddenly I didn't have time to curate a real show. With no publicity and no prices marked and nothing framed, I think we did pretty good, in that we actually sold some stuff, far better than having it sit in a box under the bed.
Here's a little bit of an installation view: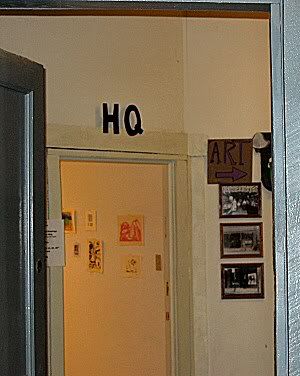 And a little more: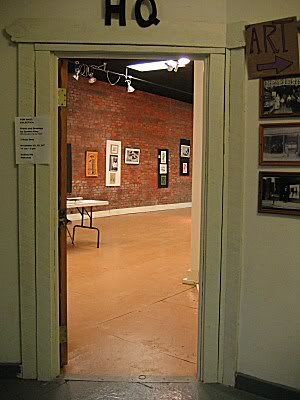 The room was long and narrow but beautiful, and beautifully lit. I could mount things with push pins on one side, but the brick wall was problematic. Still, I managed to put up nearly 50 pieces and sold enough to be encouraged. Unfortunately, I didn't get more shots of the installation because people started coming in and buying art. Oh, darn.
Sale in Makanda is now over but you can always buy stuff here at the Fresh Paint store. Until I can get the buttons up, just email me with your requests. They say that yesterday was Cyber Monday, when everyone buys stuff online. I'm just a day late, I guess, but since I don't plan on going out of town, can provide prompt one day service.
And, as I kept repeating all weekend,
"You will be astonished at the low, low prices. Most things are under $100, a lot of them between $10 and $50."

Here's a teaser (click on it):

Each is about 3 or 4 inches big. You can have any of them for
CHEAP!
This work is licensed under a Creative Commons License.