Fresh Paint
Thursday, May 26, 2005
A Very Landscapey Day
Sky was clearest ultramarine for much of the day, with clouds skittering across the blue in delicate whitey grays. Cool enough I longed for a cup of soup when I came home (but have only mushroom, which hardly qualifies. We're talking a craving for gumbo here, or maybe a substantial hot and sour. But I digress.)
Here's the first, where the trees picked up a bit of the morning/midday sun: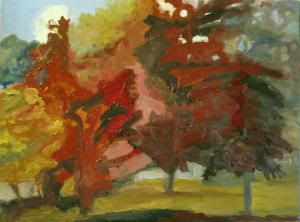 When the clouds really started moving in thought I'd pack up and leave, but I had a lot of paint laid out still, and found a square board in the trunk, so here are some branches: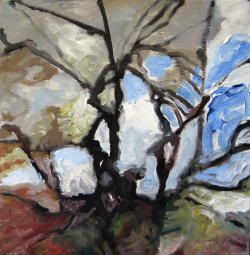 Need to clean up a few edges, but am pretty happy with both of them. Paint handled better than with the first one a few weeks ago. Mixed up some fresh secret sauce(1/3 stand oil, 1/3 turpentine, 1/3 damar), a medium I like on board and keep forgetting I like. Because of poisonous qualities is one I don't use indoors. (Tho I love the way it smells I love my liver too.)
Hmmm.... think I should fix what looks like a hard pink block on the first painting. May just be the way the .jpg saved.
This work is licensed under a Creative Commons License.