Fresh Paint
Wednesday, December 08, 2004
Knee Warmer #1
... is done.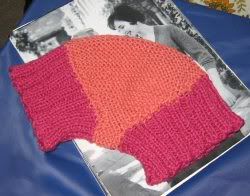 It's been tried on and tested and works, though it's a little big. And if you make your own pair, remember to bind off loosely else say goodbye to the circulation in your leg. I made the cuffs a little shorter than the directions suggested and glad I did. The 1950s instructions called for size 3 needle and sports weight yarn, which doesn't seem to exist any longer. I used size 4 and a skimpy cheap sayelle from Michaels, a reminder of my afghan-making frenzy of about 5 years ago.
Unfortunately I thought I had another skein of the pink yarn but I don't and don't really want to spend another 99 cents, so I may get creative with the second leg.
In any case, it doesn't matter, since I'm not 15 and there's no possible way I'm going to wear these in public. Because of the curve, they're strictly for your TV watching wardrobe, especially those winter days when no one is around to watch you scarf cheetos and watch Desperate Housewives, though you say you're a feminist and don't really watch TV.
This work is licensed under a Creative Commons License.